Below is a tale I'm telling at the Hearth "Show and Tell" story-telling evening in Ashland, Oregon on April 18, 2013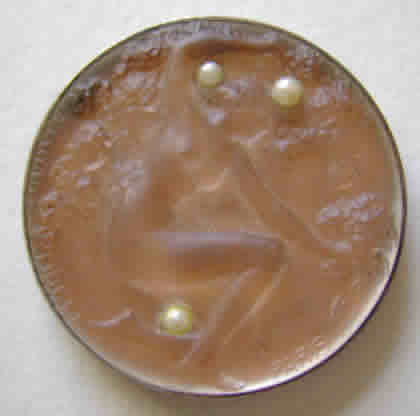 This story is about my mother and her legacy to me. The object I want to show and tell about this evening is a glass Lalique button. Lalique, for those of you who haven't heard of him, was a French glass designer who died in 1948. Right before my mother died she gave this button to me with a note: "This is signed R. Lalique (right on the edge). In 1978, it is worth $100-120. It will increase in price (exclamation point!) It will pay you to offer it at Sotheby's," a famous auction house.
In 1978, when my mother died, I was 23. I tucked the button away somewhere. About 20 years later I found it again. I was, by then, living in France. Excited, I called Sotheby's in Paris and had an appointment with an appraiser there. About a week later, I got a call to come back in. When I got there, I was told that the button was a fake.
As I left those prestigious Sotheby offices, I sobbed, stumbling to the metro. "She's done it again, even from the grave. Damn her." I could hardly believe the intensity of my feelings.
The backstory is this: my mother was a mixture of Cinderella and Madame Bovary. She came from Grapes of Wrath type poverty. Her father kidnapped her and two of her siblings from Arkansas to go pick grapes in Modesto. She ran away from him and became a mother's helper when she was a teenager. When she was in her late 20s, a twice-divorced woman with a troubled 7-year old son, she met my dad at a party. He was Prince Charming to her Cinderella, the savior and the damsel in distress.
I imagine that she soon found what a marriage, a husband and three children could provide and what they couldn't. Then she began what I think of as her Madame Bovary period. For those who don't know that name, she was a character from a French novel, written in the mid-1800s. Madame Bovary believed that finding the right man would lead to her happiness, and when that didn't work, tried to find other ways to find meaning and satisfaction in her life: making a beautiful home (driving her husband into debt to do so), charity work, religion, lovers. All her searches turned sour, as she was always looking for external solutions to inner issues, and always looking to find her value from the outside world.
So it was with my mom, though her searches were somewhat different. She took an entrepreneurial tack, not really possible for a woman in the 1800s, and a little before her time in the 1950s, 60s, 70s. She started all kinds of small businesses, what at one time I would have disparagingly called "jobbies." Inventions of all sorts, designing and making home accessories, and yes, buying and selling buttons, antiques and other collectibles.
Problem was, she had a very high standard for success. If she didn't become rich and famous from her ideas, the project was an abject failure. When she was enthusiastic about a new project, she was so much fun to be with! I would get swept along and swept away by her excitement. But when I found her in bed drinking, I knew things had gone south. When things didn't pan out as she hoped, she would get depressed, stay in bed, cry, and drink. Then I felt side-swiped and even betrayed, with no one to comfort me; my role was to comfort her. Her highs and lows, her dreams and dashed hopes, were like a roller coaster ride.
So aiming high and getting excited about things became a real problem for me, because I knew what happened when things didn't go as she expected, and of course, ultimately they never did.
Another problem for me, growing up with this, was the shame and humiliation I felt about my mom and her "schemes." Partly I was picking up on her humiliation and partly it was my own. The thought of being related to, and possibly even like this woman, was not something I wanted to entertain.
Fast forward to the day at Sotheby's. Talk about reenactment. I got swept up in her excitement AGAIN! Even though I knew better! And the feelings of being side-swiped and betrayed by her from the grave completely triggered me, along with my humiliation because the appraiser at Sotheby's (of all places) was witness to both my and my mother's shame.
It took me another decade to understand things in a new way.
What I really inherited from my mom and what the button symbolizes are tenacity and creativity and resolve and the power to make something from nothing, even the way she got herself from poverty to upper middle class. The creative spirit that kept her moving forward with her dreams. Her ability to keep getting up, keep rallying, even when her hopes were dashed. Because, until the day she died, she still kept getting up. Instead of making me ashamed, these things now make me proud.
The other gift of the button is a kind of cautionary tale, to not look outside for what is only to be found inside.
What I also understand is this: I too, like my mom and Madame Bovary, had been turning towards externals for meaning in my life. Ten years ago, when I decided to go back to school and get my Masters in Transpersonal Psychology, I turned inward. Finally. Events at grad school led me to a massive dark night of the soul which lasted 2 or 3 years. Often during this time, I would hold onto table tops as the only things I knew were real. Looking back, I realize that it was my mother's example which had given me the tools, courage and determination to keep getting up, and to harvest what she had planted.
I've gone to where you wanted to go, Mom. I've taken your tenacity and resolve but used them in the service of inner depth. Through this, I've found my calling, facilitating the inner exploration of others, in my own creative and unique way. I've picked up the baton that you've passed on to me. Thank you.